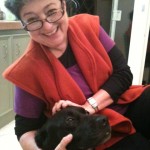 Dr. Allison Rossett, long time Professor of Educational Technology at San Diego State University, is in the Training magazine HRD Hall of Fame, was a member of the ASTD International Board of Directors, was honored with selection as an ISPI Member-for-Life and more recently with ISPI's coveted Thomas Gilbert Award. Recipient of ASTD's recognition for lifelong contributions to workplace learning and performance and designated a 2008 LEGEND, Allison co-authored Job Aids and Performance Support: Moving from Knowledge in the Classroom to Knowledge Everywhere and a new edition of her classic book, First Things Fast. She edited The ASTD E-Learning Handbook: Best Practices, Strategies, and Case Studies for an Emerging Field. You can follow Allison on Twitter @arossett
1.Can you tell us a little bit about your teaching experience at San Diego State? What topics do you cover in class?
I've been a Professor of Educational Technology at San Diego State for what seems like forever. Actually, it's a little more than three decades. I teach courses in instructional design and performance technology. Basically, these are classes that use the best of learning theory, educational psychology, organizational behavior and information technology to solve problems. How do we help instructors rethink a particular course to increase access and engagement? How do we help a high tech firm roll out a new product? How about a hospital that wants to redesign its orientation? We use the best of theory and technology to plan, develop and execute on those solutions.
2.Have you taught online? Say a little about that, please.
Oh yes. My department Chair said it was about time I applied my talk about great instructional design and emergent technology to my own classes. After a little resistance, I did. And I like it. We have an online MA in instructional design and technology at SDSU and I teach in it.
In fact, I often teach online now, doing three unit classes, webinars and professional development seminars for corporations and government agencies.
3.You're also an author. What do you write about?
My two most recent books are the new edition of First Things Fast, A Handbook for Performance Analysis and Job Aids and Performance Support: Moving from Knowledge in the Classroom to Knowledge Everywhere. Think about that. Knowledge everywhere. That's what online education enables. That's why it is interesting and important.
I edited The ASTD E-Learning Handbook: Best Practices, Strategies, and Case Studies for an Emerging Field and a white paper for the American Management Association, Blended Learning Opportunities and another, on learner engagement, for Adobe Systems. One recent article that might interest your readers is my "Ode to Mobile Performance Support."
4.What is your proudest accomplishment so far, in the field of technology and e-learning?
No doubt I am most proud of generations of prior students who now work for the International Rescue Committee, San Diego Zoo, Deloitte, IRS, Qualcomm, CareFusion, the Smithsonian, Children's Hospital, and many, many schools and universities and including Laureate, Inc.
5.When evaluating which schools to apply to, both online and traditional, what factors should a student look for and value the most?
What is the quality of the student experience? What do students say about it? Have you done your due diligence and contacted people who have pursued degrees where you are considering pursuing your degree?
Ask:
How were you guided to select your classes? To think about your major and your career options?
How were you assisted when you ran into problems with a requirement, an instructor, an assignment or a course?
How did they help you to assess your readiness for online instruction, from tech capacity to independent learning?
How engaging is the instruction?
How flexible?
How much synch vs asynch?
How much group work?
How many examples are provided? Rubrics?
Are students proud that they attended or do they bury the truth?
Would they recommend the institution and the instructors to their loved ones? Why?
How do they help their students to find internships and work opportunities?
Are they delivering value for the money it costs to attend?
6.What qualities or skills make someone a good candidate for online education?
Motivated students make good online students.
Doubtful about going to school? It's hard to move yourself to read, write, submit, attend, collaborate if you are not fully into it. On your own, in your home, with a busy life, it's hard to pull yourself away from the kids or the fridge for online instruction if you don't fully buy into it.
Online education is often, not always, an independent endeavor. You have to self-manage. Are you good at that? Do you manage time well? Do you fulfill your promises to yourself and others? If the answers are yes, you are well on your way.
7.What do you believe are the benefits of online education?
Online education is great preparation for your career. Success in every career depends on a life time of learning. And as we look forward, much of that will happen online.
8.What are the disadvantages of online education, and can they be overcome?
It can be lonely. You can feel isolated.
Sometimes the instruction isn't as good as it ought to be and the instructor and system don't learn about the flaws in time to improve your experience.
If you anticipate these disadvantages and work with others, throw yourself into group projects, connect with the professor and program leader, and get involved, your experience will be much better.
Don't be passive just because you are thousands of miles from the "campus." Set expectations for yourself and your class, instructor and institution. Hold yourself and them to those expectations.
9.What challenges do educators face in an online learning environment? What is being done to overcome those challenges?
The instructors who teach you online are typically experts in math or religion or French or information technology. Many are new to online education. They are finding their way, just learning to use these tools. It's a challenge for them. It's a challenge for all of us.
If you were on campus, you would indicate your approval and engagement by nodding and your boredom by glazing over or skipping class. Be sure that you reach out to your faculty with comments about their online strategies. Talk to them about examples, guidance for exercises and assignments, practice opportunities, and ways to make lectures and group work more successful. Students are critical sources for online educators. Talk to us. And we need to encourage you to do that, of course.