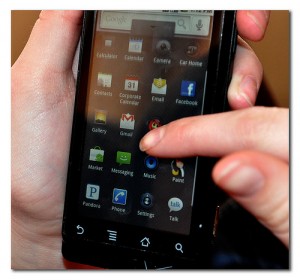 For one of the online institutions that I teach for, I just downloaded a new application that allows me to access the classes I teach on my android cell/smart phone. This is a newer trend that seems to be catching on at many online institutions for faculty and students to access their online classes. There are also these same applications for the iPhone, iPad, iPod, and Android powered tablet devices.
You can get a sample of this newer technology for your cell/smart phone by looking at The University of Phoenix's website: https://portal.phoenix.edu/public/mobile.html. Also, Blackboard has a version of their online learning management system for smart/cell phones. Here it is for the Android: https://market.android.com/details?id=com.blackboard.android&hl=en and here it is for the iPhone: http://itunes.apple.com/us/app/blackboard-mobile-learn-for/id376413870?mt=8
Though this application can be very helpful for you to manage your online classes while on the run, I have some advice and concerns. While I think this would be great for you to complete the course readings (eBooks) and participate in the online class discussions, I have concerns about using this application for writing quality academic papers using APA Format. I too often see students using texting language (lol, gr8, etc.) in their academic papers and wonder if this is what they are doing? It might be hard to separate texting from academic writing if you are using the same device you use to text. What do you think?
I plan on using this application to keep myself updated in the online classes that I teach by being able to respond to any student questions or concerns immediately and to make some quick discussion posts, but I doubt I will be doing much grading using this application.
On the other hand, I can see how powerful this application can be because it can alert students when their online instructor graded their assignments or has given them direct feedback/comments and or a new discussion post has been added or answered by classmates. You can also control your alerts which is very convenient. Some other functions include being able to bookmark certain posts and comments to view later.
Would you use any of these applications to access your online classes? Please let me know via Twitter: @onlinefac
Please stay tuned until next week when I write another online blog about online education.